GiBiDi Art 5024 Kit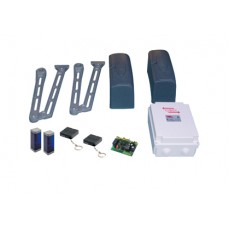 Product Code:
GiBiDi Art 5024 Kit
1 x BA230 Control
1 x Reciever
2 x 2 Channel Transmitter (433mHz)
1 x Pair F200 Photocells
2 x ART 5000 Motors inc. Limit Switches
2 x Articulated Arms
The kit includes 2 x 24vdc electro mechanical rams to automate a pair of gates and conforms to requirements specified in BS EN12453.
This system has limit switches and provides the facility for slow down in opening and closing. The limit switches must be used for the correct operation of the system however this allows installation without ground stops thus reducing the actual installation work.